I grew up in London, in a tall Victorian terraced house. My granny lived at the top and my uncle and aunt were on the middle floor. My parents, younger sister Mary and I shared the ground floor with our cat Geoffrey. (He was really a prince in disguise. Mary and I would argue about which of us would marry him.)
Here is a picture of Mary and me dressed up as a bucket and spade for a fancy dress competition, and one of Granny and me sitting on the wall outside our house.

Granny used to slit open big brown envelopes so that Mary and I could draw and write stories on the back of them. I liked writing stories at school too; the first one I remember writing was about a rabbit with orange ears that looked like carrots. Mary and I never had any rabbits when we were growing up but we did have other cats (and lots of kittens!) and quite a few guinea pigs.
After I'd finished school I went to Bristol University to study Drama and French. There I met Malcolm, a medical student who played the guitar. In our holidays we often used to go busking together. We would sing outside cafés and collect money in a big hat. I would write special songs for each country; the best one was in Italian about pasta.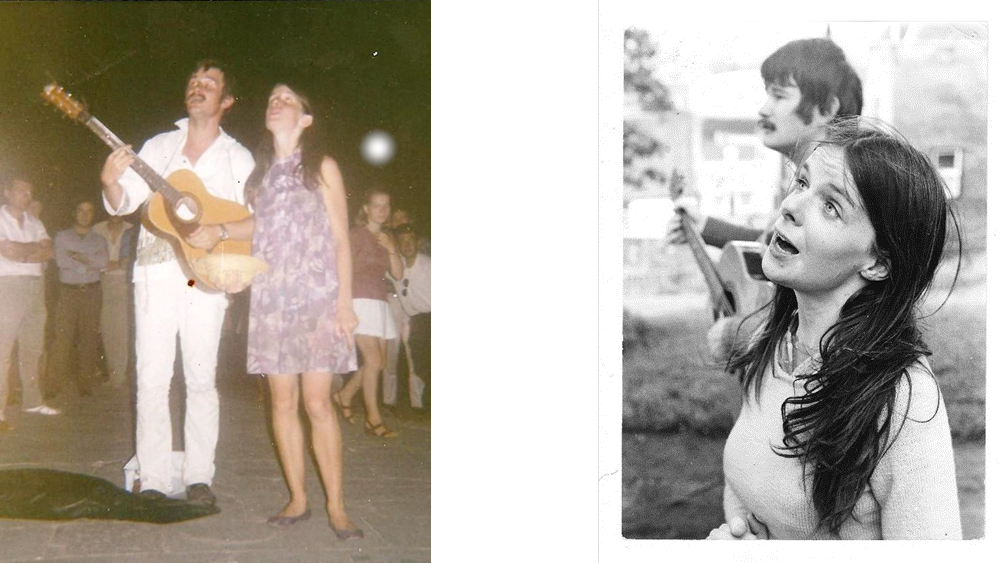 Malcolm and I have now been married for nearly fifty years! (I didn't end up marrying Geoffrey the cat, and neither did Mary.) Here we are on our wedding day, travelling on a rag and bone man's cart from the church to our wedding reception.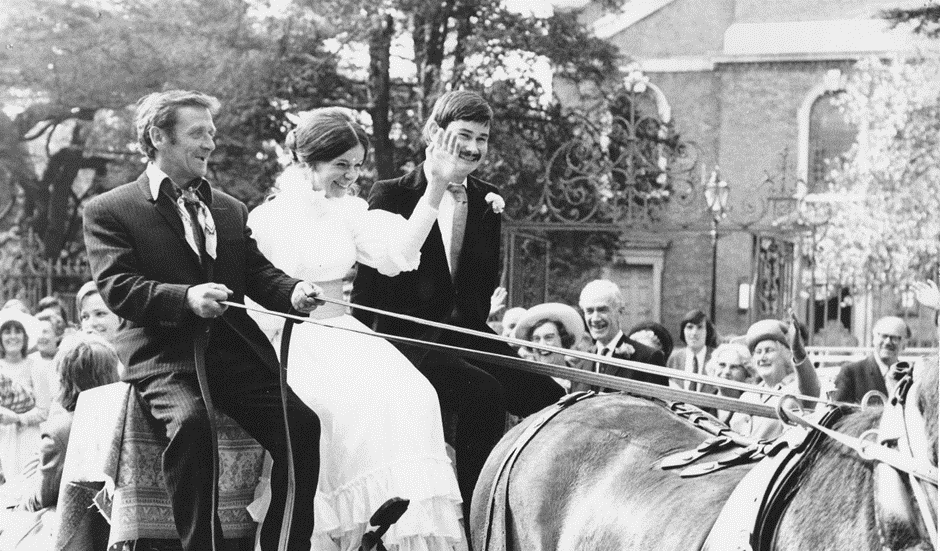 Before we had our three sons I worked for a couple of publishers and at a local radio station, and then taught English in a secondary school. During this time I was also singing in folk clubs with Malcolm.
I sent a tape of my songs to the BBC, and they asked me to write some more songs for children's television. They usually told me what to write about – it might be guinea pigs, window-cleaning or horrible smells!
In 1993 the words of one of my television songs, A Squash and a Squeeze, were made into a book, with wonderful pictures by Axel Scheffler.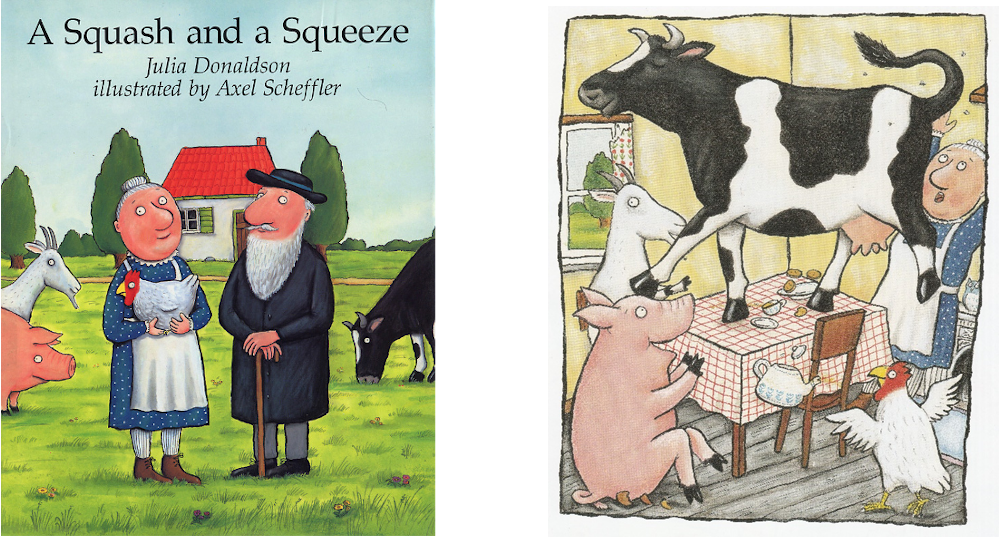 It was very exciting! It felt great to hold the book in my hand without it vanishing into thin air the way the songs did.
This is a picture of Axel and me. The house we're in is a model of the little old lady's house from A Squash and a Squeeze.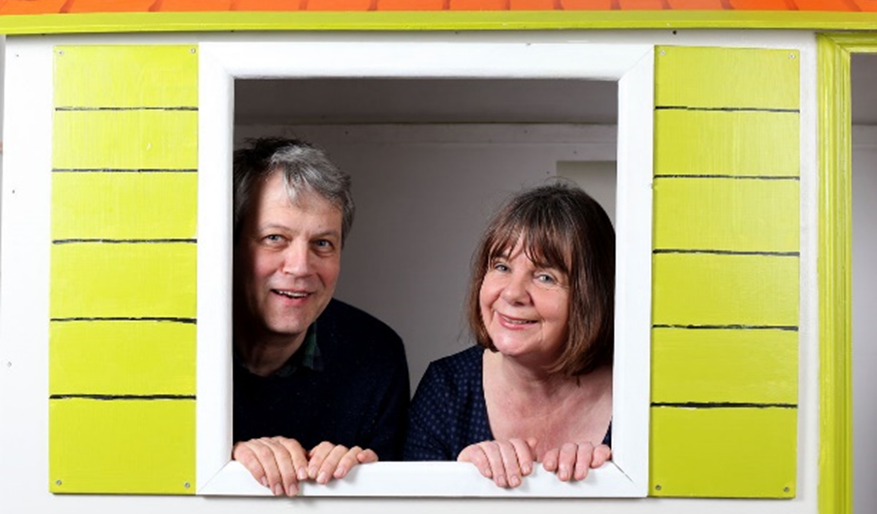 Having my first book published encouraged me to look out some plays I'd written for our son's primary school and send them to an educational publisher. Since then I've had 46 plays published. Most children love acting and it's a tremendous way to improve their reading.
My real breakthrough was in 1999 with a book called The Gruffalo, again illustrated by Axel Scheffler.
Here is a page from my notebook when I was writing The Gruffalo. As you can see, it looks very messy!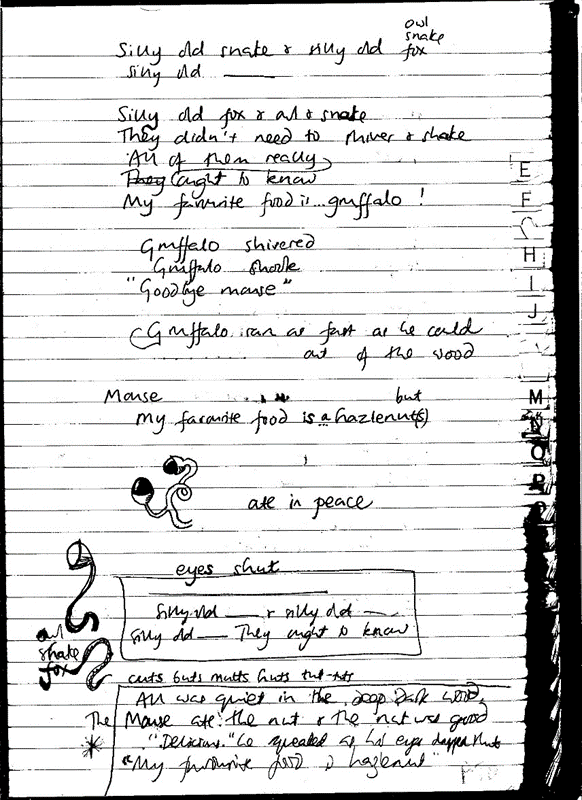 And here are some of Axel's initial sketches of the characters.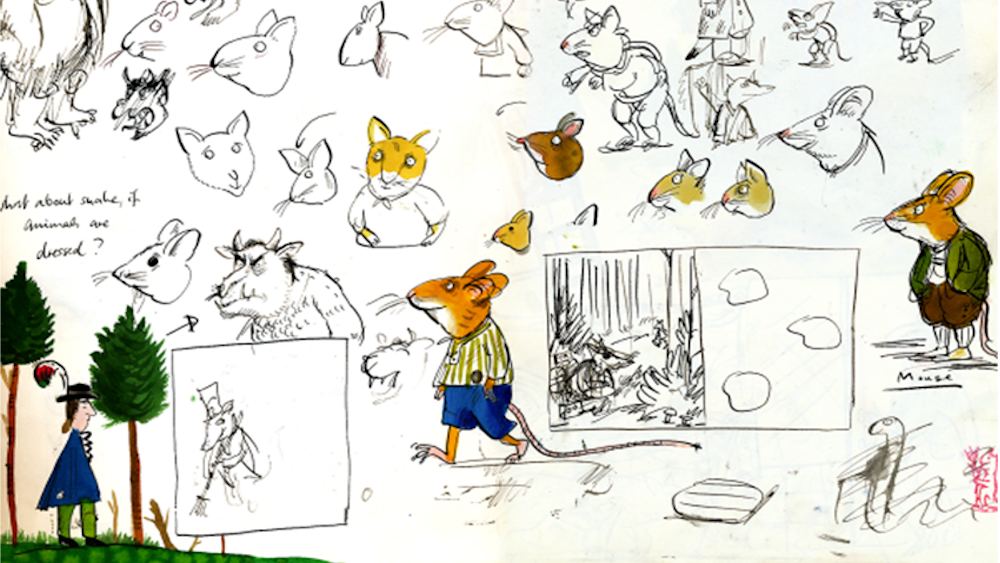 Axel and I work separately – we don't live very near each other - but he sends me letters with lovely funny pictures on the envelopes, like this one.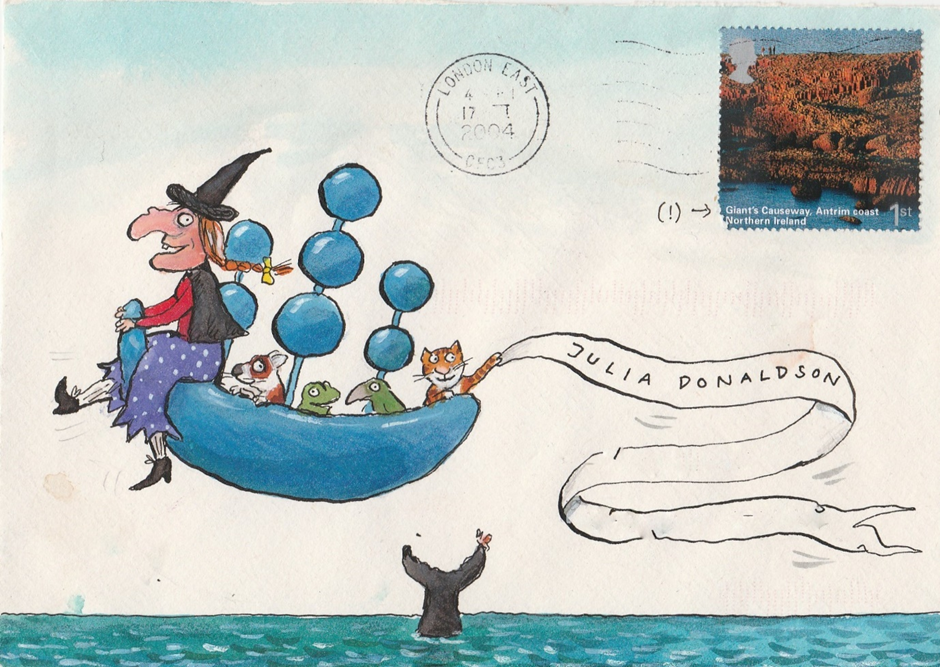 Axel and I have now done over twenty books together and been on quite a few book tours. Here we are in Germany holding up some of the fish from Tiddler.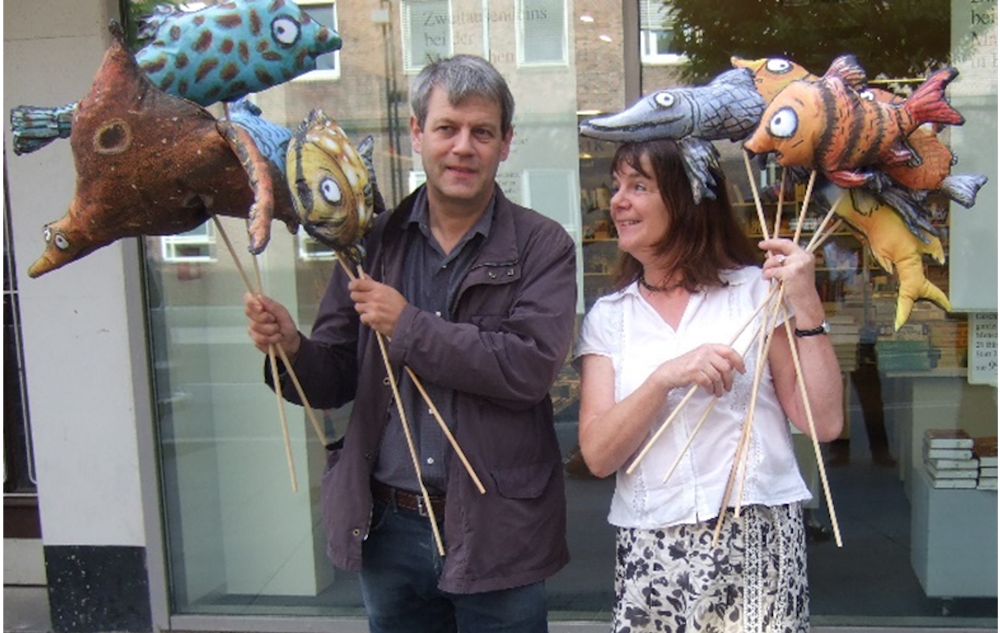 I've worked with a lot of other illustrators too as you'll see if you visit the Picture Book page. I've also written books for older readers, including some about Princess Mirror-Belle, which have been made into a CBBC television series. It was fun acting in one of the episodes myself - playing an author visiting a library!
In 2011 I became the Children's Laureate for two years. This is a picture of me with the special Children's Laureate medal. Here I am wearing the medal and holding a couple of props from my shows.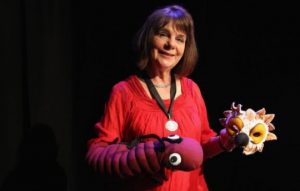 During that time I had my portrait painted by Peter Monkman. The portrait, of me in my props room is now in the National Portrait Gallery in London.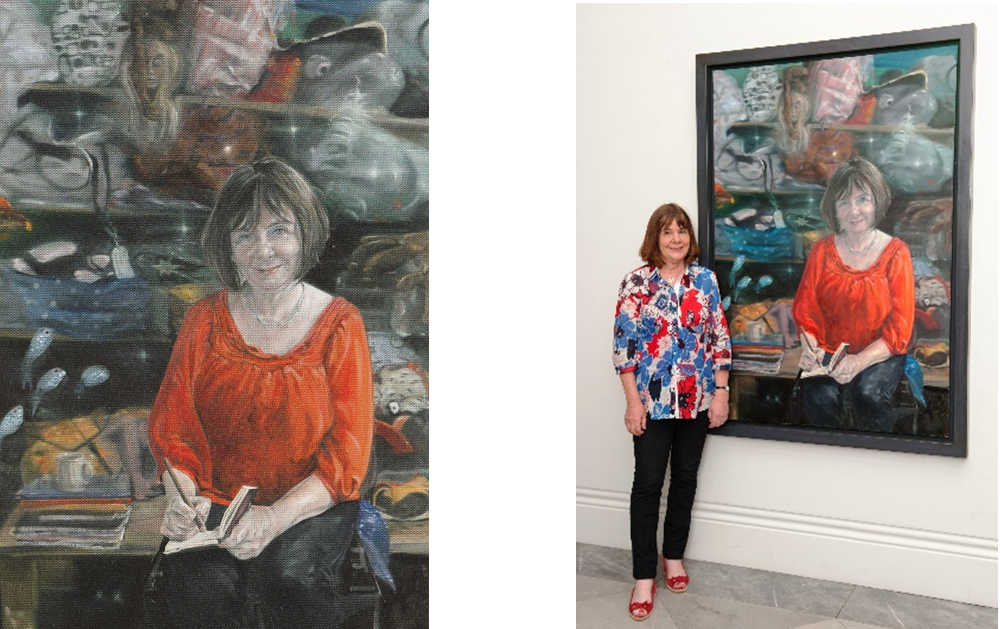 In 2019 I was awarded the CBE for services to literature and got another medal! Here are some more pictures, taken outside Buckingham Palace. With me are my sons Jerry and Alastair.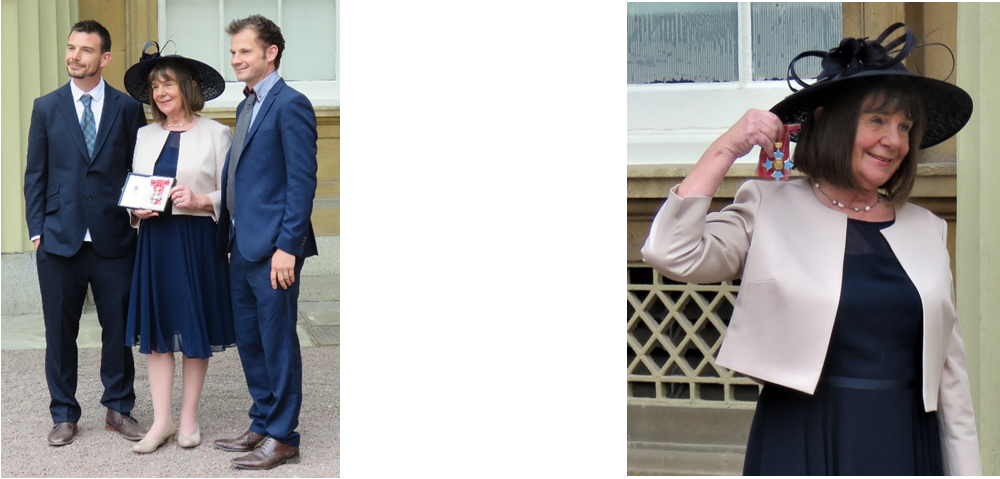 When I'm not writing I am often performing, at book festivals and in theatres. I really enjoy getting the children in the audience to help me act out the stories and sing the songs.
This is a picture taken at a show we did at the Edinburgh Fringe called The Gruffalo, the Witch and the Warthog. We are acting The Ugly Five. (I am the Wildebeest in the middle.)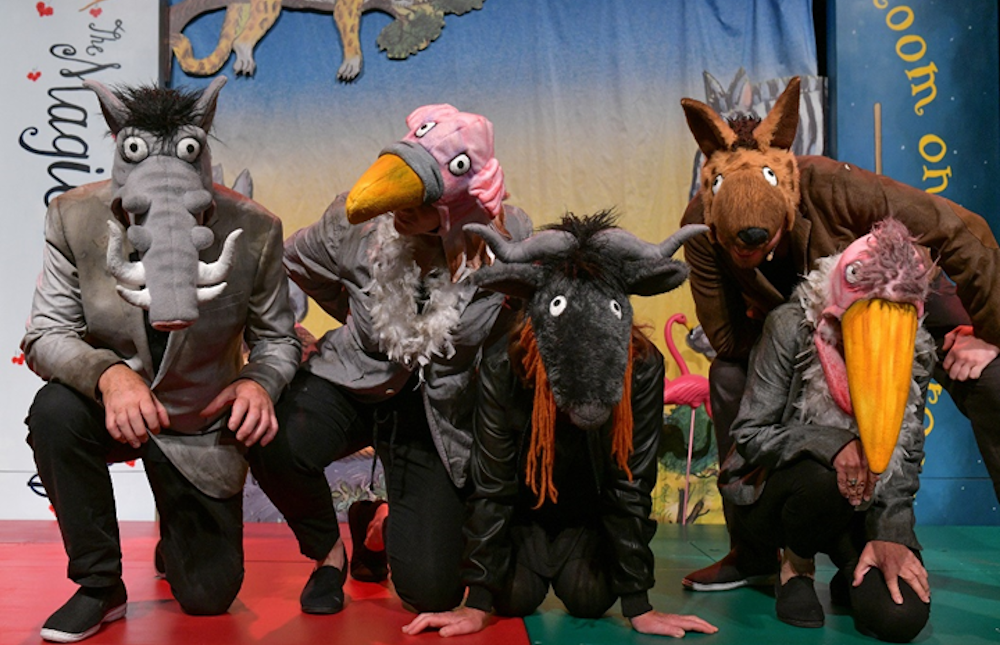 Malcolm is always in the shows. He acts a lot of the characters (usually the ones that are bad or stupid!) and plays the guitar.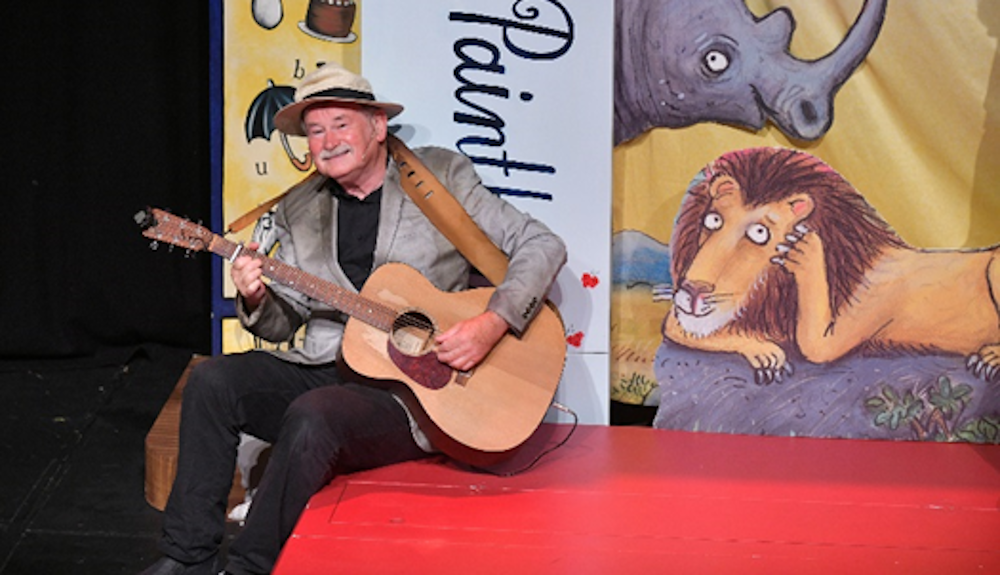 Sometimes it feels as if we've come full circle - back to busking.