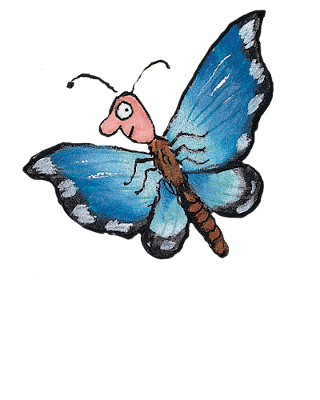 "I've lost my mum!"
"Hush, little monkey, don't you cry,
I'll help you find her," said Butterfly
But somehow Butterfly keeps getting it wrong. Will Monkey ever find his mum?
"The really outstanding new animal picture book for children over two… it will make you all laugh over and over again"  The Independent on Sunday
| | |
| --- | --- |
| | Julia says ... |
This story was accepted by the publisher at the same time as The Gruffalo, and at first they thought they might find a different illustrator for it. But I'm very glad they didn't! I can't imagine that anyone other than Axel could have given such character and humour to the animals which the butterfly mistakes for the monkey's mum.
Monkey Puzzle works really well in a primary-school drama session, with the children miming the various animals.
There is also a Monkey Puzzle song which you can watch Malcolm and me singing – with Makaton sign language – by clicking here. A more professional recording can be heard on streaming platforms such as Spotify.
Monkey Puzzle is also one of the stories included in the show "Tiddler and Other Terrific Tales" by Freckle Productions, which frequently tours the UK.